Recently, Shenzhen General Standard Testing Services Co., Ltd. (GST) successfully passed the qualification review of the International Safe Transit Association (ISTA). And based on the original capabilities, ISTA Project 6- Amazon.com testing capabilities have been added, and the membership period has been updated to September 2021.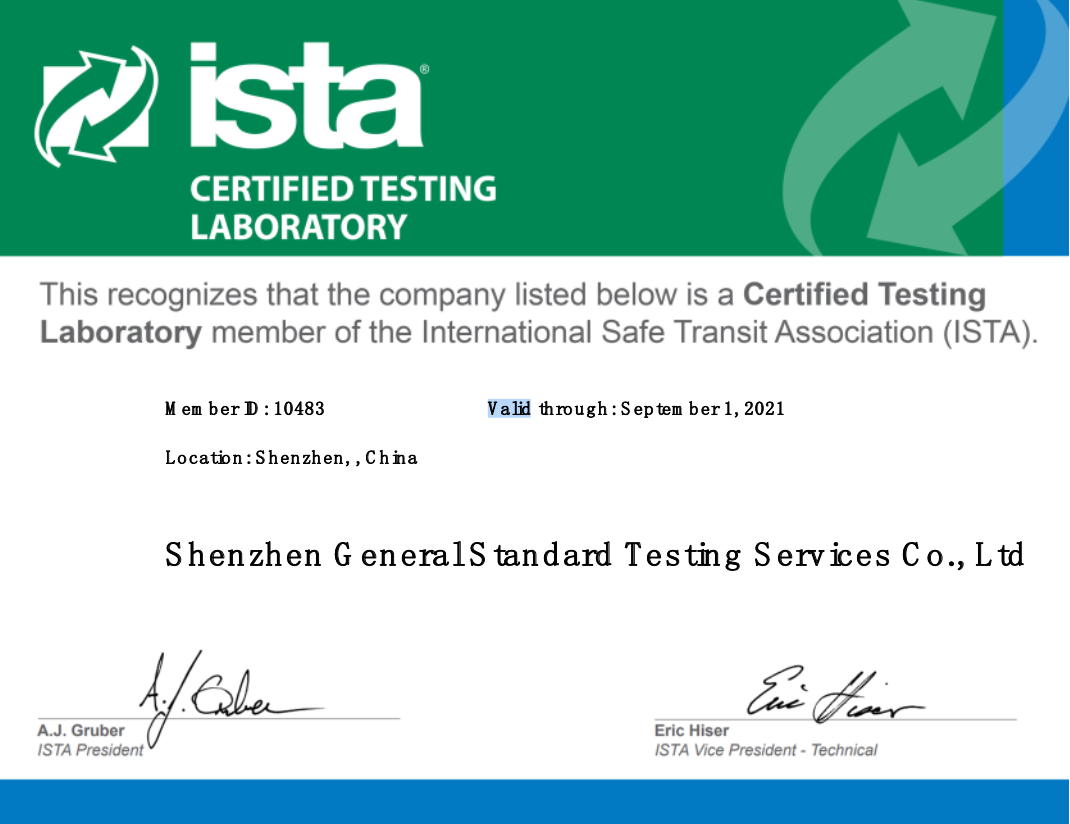 ISTA is the leading organization for international packaging and transportation, and the industry's leading developer of packaging testing protocols and design standards. ISTA Project 6-Amazon.com is tan enterprise standard developed by ISTA for Amazon.com. It is divided into two standards: ISTA 6-Amazon.com-SIOC and ISTA 6-Amazon.com-OB according to different packaging methods.
ISTA 6-Amazon.com-SIOC is for packaged-products shipped by Vendors to Amazon.com Fulfillment Centers and delivered to final customer destinations via Parcel or Less-Than-Truckload (LTL) outbound shipment methods. It challenges the capability of both package and product to withstand transport hazards normally encountered during handling and transportation. Amazon.com Vendors with items intended to utilize Ships In Own Container (SIOC) are encouraged to use this test to understand the protective performance of their packaging.
ISTA6-Amazon.com-Over Boxing tests items comprises an individual retail packaged-product being placed into a master shipping container (Over Box) either by itself with the addition of dunnage(air pillows or Kraft paper) or with multiple individual retail packaged-products with dunnage for shipment from Amazon.com to an end consumer through a parcel delivery system which could include modes of air, rail, or truck. This test challenges the packaging and/or products, whether primary package or transport package, ability to withstand the general damage- producing motions, forces, conditions, and sequences of this environment.
GST is a third-party testing organization with complete qualifications, complete experimental capabilities and rich practical experience. We have a professional technical team and sophisticated testing equipment to develop the most comprehensive and economical test plan for you. To help you verify packaging performance, optimize packaging design to meet regulatory and standards requirements, ensure product safety, improve consumer satisfaction and market competitiveness. You are welcome to contact us regarding Amazon packaging testing and other compliance issues.